Today is Week 5 of Fall inspired cocktails. Today is another take on the Old Fashioned.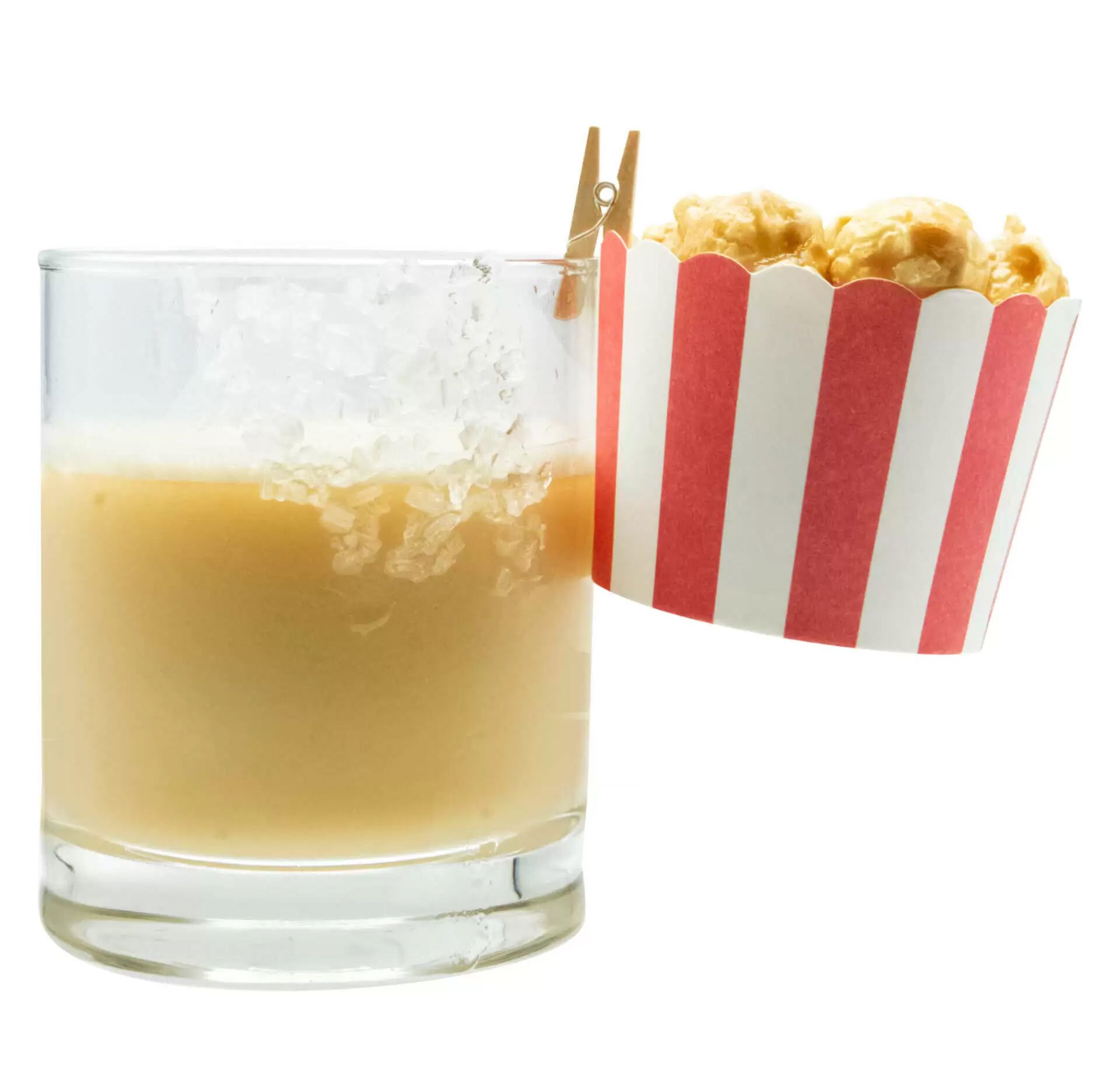 Caramel Pop Old Fashioned
Ingredients
2 oz Bourbon
1/2 oz Ghirardelli Sea Salt Caramel Sauce
2 dashes Angostura Bitters
Instructions
Add all ingredients to mixing glass. Top with ice and stir vigorously. Strain into Double old fashioned glass that has a fresh single large ice cube in it.
Garnish with sea salt caramel toffee popcorn and a salted rim.
Glassware
Double Old Fashioned
How to make your own Caramel Popcorn
Listen up, because I'm going to show you how to make a proper caramel popcorn. First things first, you're going to need some popcorn kernels. Make sure they're the good stuff, none of that pre-popped nonsense. Now, for the oil, I recommend using olive oil, but canola or vegetable will do in a pinch.
Next, we're talking sugar. Some people like to use brown sugar for caramel, but we're using granulated sugar here. You want to cook it for a few minutes in the saucepan until it's nice and brown, that's the basis of your caramel. And don't skimp on the salt, it's what's going to give it that delicious salted caramel flavor.
Now, butter. Make sure it's soft, not melted, and I prefer salted butter, but unsalted will work too. And don't forget the baking soda, or as I like to call it, bicarbonate of soda. It's going to help expand the caramel and give it that perfect flavor.
Now, let's get to the popcorn. Heat up the oil in the pan and add the kernels, cover it and cook it at a medium-low temperature. Once the popping stops, take it off the heat.
Time to make the caramel. Put the pan back on the heat, add the sugar and make sure it doesn't burn. Once it's caramelized, add the salt and stir it in. Quickly add the butter and stir until it's melted. Finally, add the baking soda and stir it all together.
Pour the popcorn into the pan and coat it in the caramel. Spread it out on a lightly greased baking sheet in a thin layer. Some recipes will tell you to bake it in the oven to dry it out, but I prefer it with a little stickiness. Just make sure it's stored in an airtight container at room temperature.
As for how much popcorn per person, that's up to you. But a good rule of thumb is one cup of cooked popcorn per serving. But if you're anything like me, you'll probably end up eating the whole batch by yourself.